Innovative Copper Circuit Filter Disables SARs-CoV-2 Virus
Minneapolis, MINNESOTA (June 7, 2021) – LCP Medical Technologies, Inc. today announced the launch of the PathoGen1™ Optically Clear Respirator, a reusable clear plastic respirator designed for medical personnel that can eliminate viruses and other pathogens. The PathoGen1™ has a self-adjusting seal to the face that requires no special fit training, and utilizes a unique disposable filter with copper based circuitry that is registered with the EPA to eliminate 99.9 % of SARS-CoV-2 , combined with filter material with FDA emergency use authorization.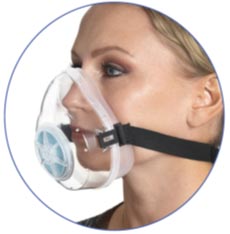 Typical N95 respirators worn by healthcare providers today are uncomfortable to wear for long periods, irritate the skin, are difficult to seal to the face, contaminate easily, are hard to sanitize and do not eliminate viruses. They also completely hide the provider's facial expressions from patients that are already feeling isolated.
In contrast, the PathoGen1™ shows the user's face and allows the caregiver to connect with patients, while the innovative copper circuit based replaceable filter that can eliminate SARs-CoV-2 is suspended directly into the user's airstream.
LCP Medical CEO Jim Rathburn explains "We developed this technology to reduce infection risk in high exposure settings with a product caregivers can wear comfortably for long periods and easily sanitize. We want to ensure they will be prepared for future virus variants that may be more infectious or lethal."
As COVID-19 evolves around the world, many situations remain where face masks must worn by the general public – from air travel to visiting healthcare facilities, public transportation, attending school, or re-entering the workplace safely. Most cloth and surgical masks worn by the general public provide little to no protection against airborne viruses, and are not comfortable to wear for long time periods.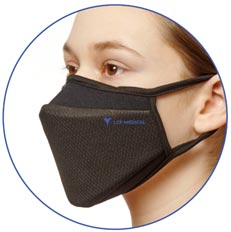 LCP Medical's FrontLine™ Mask is new fabric-based face mask with a unique air chamber design that holds the fabric away from the face, greatly increasing breathability while preventing skin irritation and fogged glasses. The mask supports multiple filters, including a special pathogen elimination version that utilizes the copper circuit technology used in the medical grade PathoGen1™ Respirator.
LCP Medical Technologies, Inc. was founded in 2019 to focus on micro-electronics integration that provides significant size reduction and increased performance for medical, RF/MW wireless, and wearable products. LCP Medical's technology embeds semiconductors, sensors and micro circuits into biocompatible liquid crystal polymer materials. Respirator and mask products are a unique application of the company's core technology, driven by a response to the SARS-CoV-2 virus outbreak and the global fight against COVID-19 infections.
For more information visit lcp-medical.com.